Reminder presets are incredibly useful when you would like to have reminders for customers and service techs automatically set for your estimates and jobs! These will act as a sort of template for your reminders that you will be able to set without having to create new reminders for every single job or estimate.
Note: you'll need to make sure your customer's account has been configured to receive reminders! Click here to skip down to configuring these settings on the customer account.
In order to create a Reminder Preset you will need to hover over My Office and select the Reminder Presets option in the second column.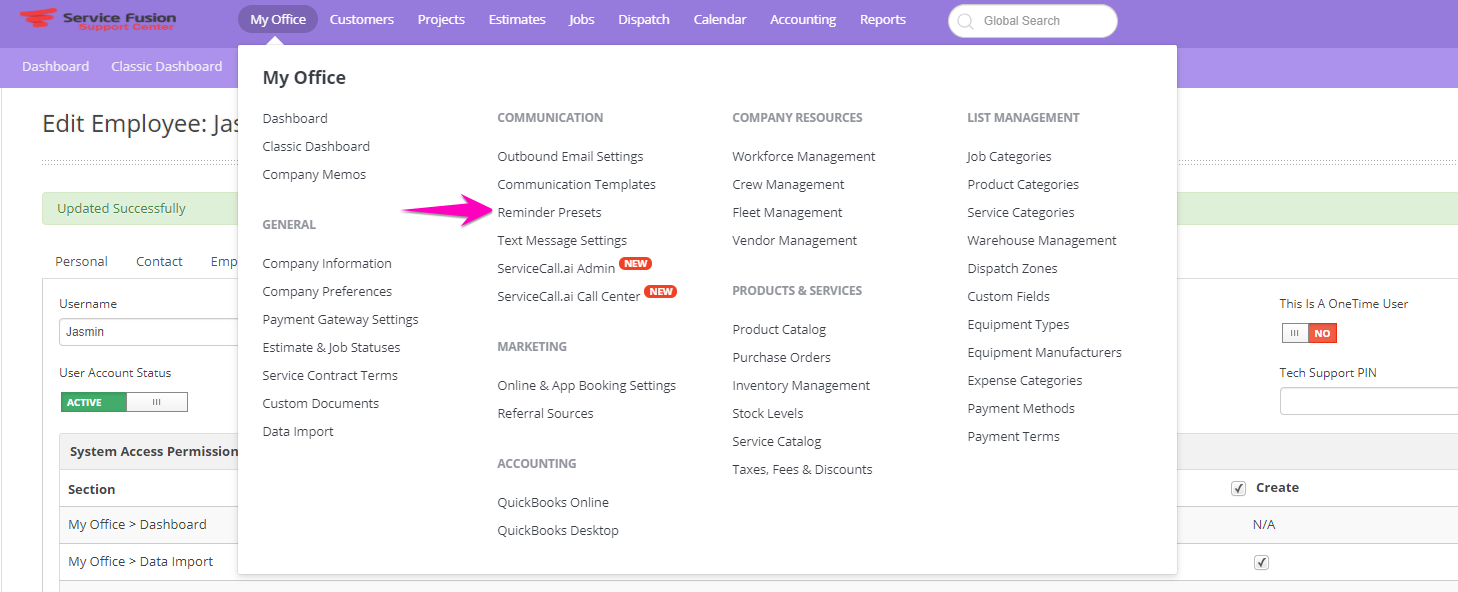 You will then be presented with a blank looking screen with a couple options to the left of the screen. These are the different categories that you can set your reminders to be associated with. The estimates section will be for reminders that you would like to set for your estimates while the job/site visits section will be for ones that you would like to set for jobs and site visits!
Once you have added a preset and saved it in to the Service Fusion system they will appear in the drop down of each section. When you want to create a new preset you will select the blue "New" next to the section names!
Once you have input the name of your preset and selected to save, you will be presented with the page shown below. There are a couple of toggles here that will have different effects on your preset.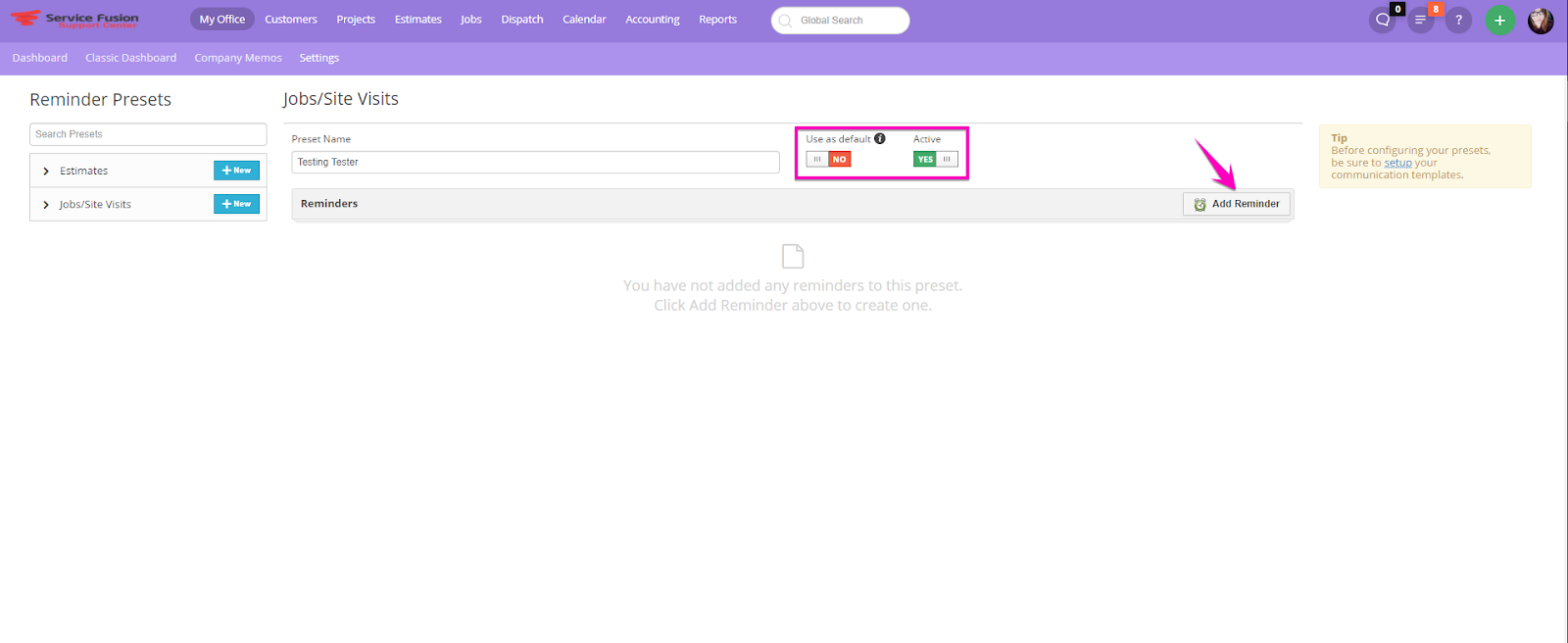 The "Use As Default" toggle will apply the preset you have marked as the default to all estimates/jobs/site visits upon creation. You can have one marked as default for a Job, one marked as default for a Site Visit, and one marked as default for an Estimate. The "Active" toggle will just let Service Fusion know if you are actively using the preset. If you have it marked as Inactive then you will not be able to select it from the preset drop down on an estimate/job/site visit, although you can still find it here to edit or make Active again. Once you have set those toggles the way you would like, select Add Reminder to the right of the toggles.
Here in my example, I am clicking the Add New for a job/site visit reminder! You will be presented with a dialogue box that will allow you to customize your reminder.
The dialogue presents you with two options at the top which are Job/Work Order or Site Visit. Distinguishing between these two terms is very important to make sure that your reminders function correctly.
Job/Work Order is going to be the type of reminder you need if you just want to have a reminder set for a job.This will create reminders to be sent based on the base job you have within Service Fusion.
Site Visit is referring to Additional Site Visits for a job. This is the option you'll want to select if you would like the system to send reminders based on Additional Site Visits of a job.

When you are ready to apply your preset to a job, you will find the Insert Preset option located in the Reminders section of the View Job screen and it will present a drop down for you to select your preset!
Once you have selected your preset your reminders will be visible in that Reminders section!
If you selected a preset as a default then choose to create a job then you will not see the preset applied until after you save your job.
I have this preset set as default: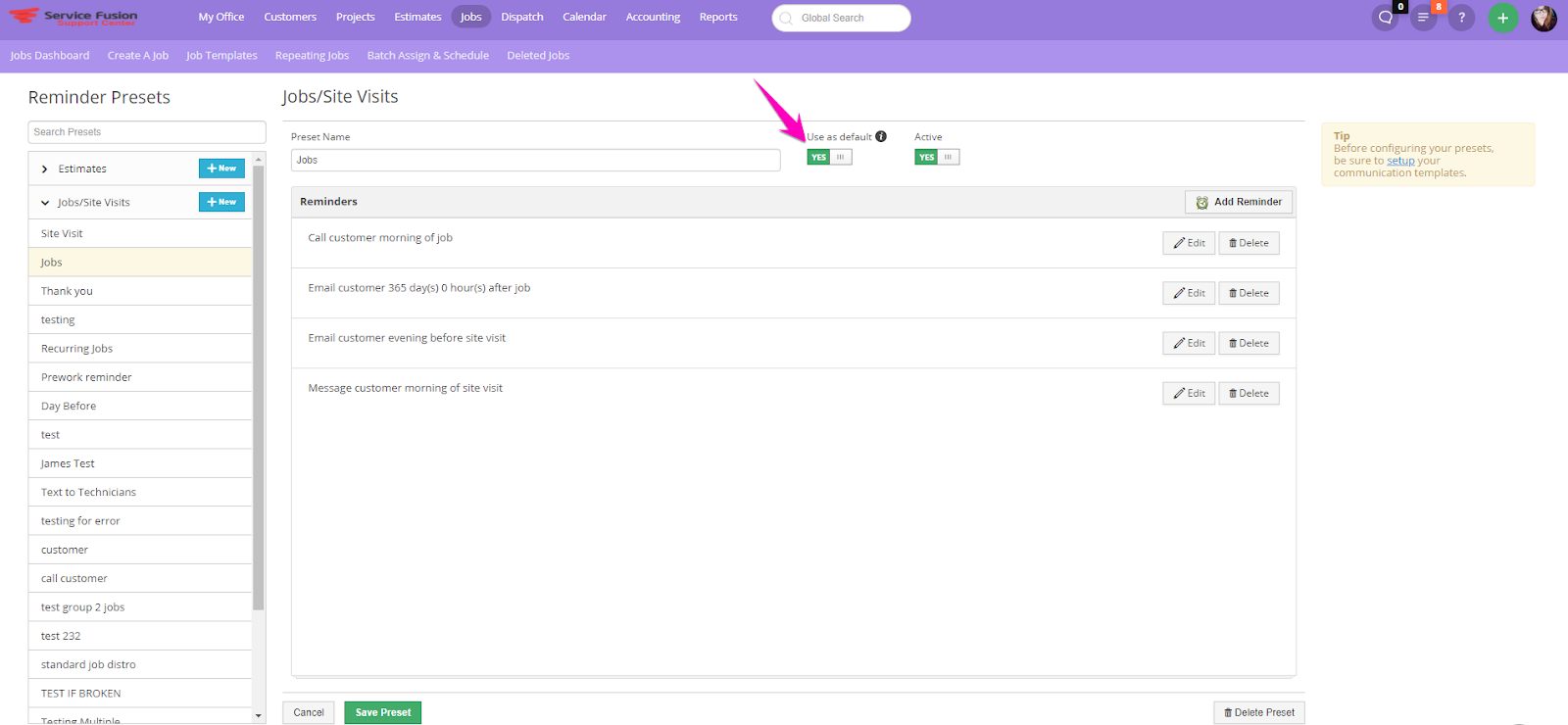 When I go to create a new job you will see the reminder section is blank: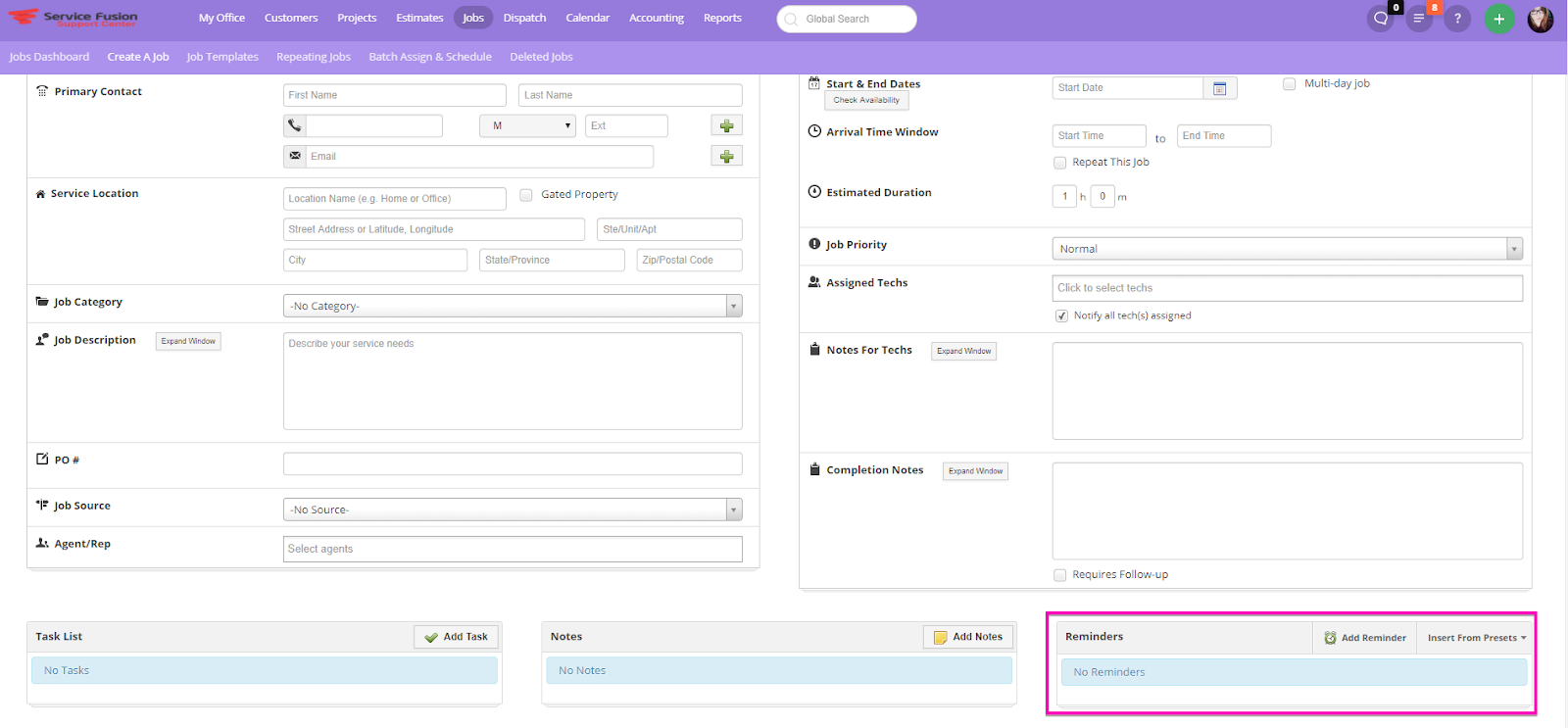 Once you have saved the job the presets will appear in the reminders section:
Receiving Reminders: Customer Permissions
In order to ensure that your customer will receive your reminders you will need to make sure that they have their communication settings set to receive them! You will find these setting within your customer's individual accounts.
In the resulting dialogue box, make sure that they have a check next to the communications you would like them to receive! Service reminders will be the specific option needed for the receipt of your reminders.