As requested by popular demand, Service Fusion now allows syncing of estimates from Service Fusion to QuickBooks! We now support syncing estimates to both versions of QuickBooks - Online and Desktop!
A new section has been added to both of the My Office > QuickBooks Online or Desktop settings pages: Estimate Sync & Content Preferences.
If you do not wish to sync estimates to QuickBooks, you can flip the toggle switch to OFF. To sync estimates with QuickBooks, flip the toggle switch to ON.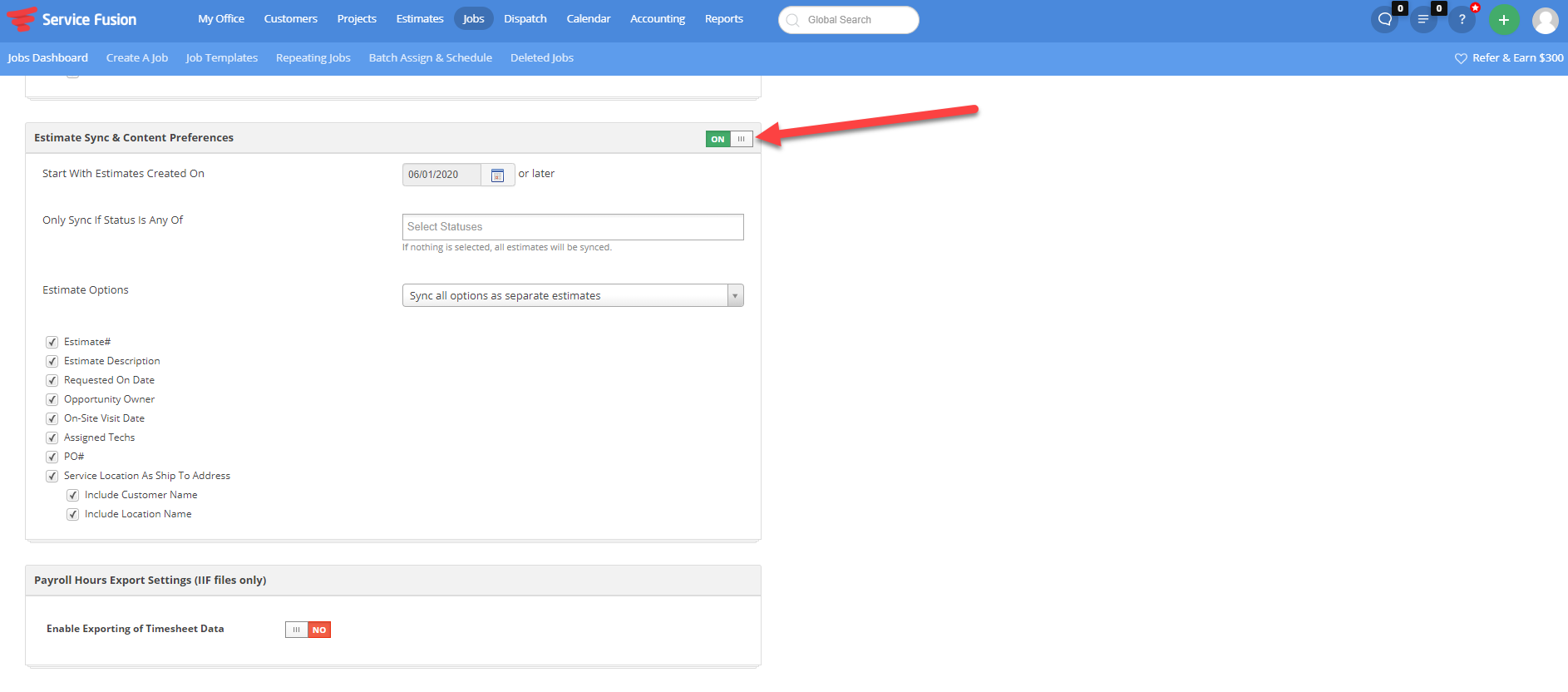 As there is a significant chance you may have many estimates in Service Fusion, you may not want to sync the entire history of estimates. The Start With Estimates Created On preference allows the user to choose which estimates, based on creation date, can sync with QuickBooks. You can change this date to sync everything from January 1st 2015 and through today if you like, or you can choose a date more recent. In this example, we selected to sync estimates created on June 1st 2020 and forward to sync.
Note this is the created on date, and not the estimate's scheduled site visit date.
Following the date selection, we can also choose to sync estimates if the Estimate Status is specified: Only Sync If Status is Any Of.
You can click into the field to select one status, multiple statuses, or leave the field blank to not filter based on status (If nothing is selected, all estimates will be synced *provided the creation date is in compliance with the above selected date).
But what about Estimate Options? We thought of that, too! Use the next drop down list of select how you'd prefer your Estimate Options to sync: all options as separate estimates, only the first option, or only the converted option.
And finally, we have a section that closely mirrors the Invoice Content Preferences above the Estimate Sync & Content Preferences. The user can choose which details they'd like to be included in the sync from Service Fusion to QuickBooks. Simply check or un-check the boxes to control what is or is not included on the estimate.
Syncing Estimates With QuickBooks Desktop
This syncing will run through the same integration plugin you are familiar with from having previously synced invoices and payments.
This feature requires version 1.9.4 (or later) of the Service Fusion QuickBooks plugin. Click here to download and install the latest version.
Syncing Estimates with QuickBooks Online
To begin syncing estimates with QuickBooks Online, this section is immediately available ready to use. The default position for the toggle switch to control if estimate syncing is turned on is the 'OFF' position. Simply toggle the switch to the 'ON' position and with the appropriate settings configured, you can begin syncing estimates to QuickBooks Online!