When a technician updates their status to On The Way, a text message notification can be sent to the customer if the following criteria are met:
1) The contact on the job has a mobile phone number. If the number is a home, work, or other, the On The Way message will not send.
2) The customer contact is enabled to receive the text when technician is On The Way. This can be checked by going to the Customer profile and clicking the Configure Personal Communication Preferences button under the customer's email address.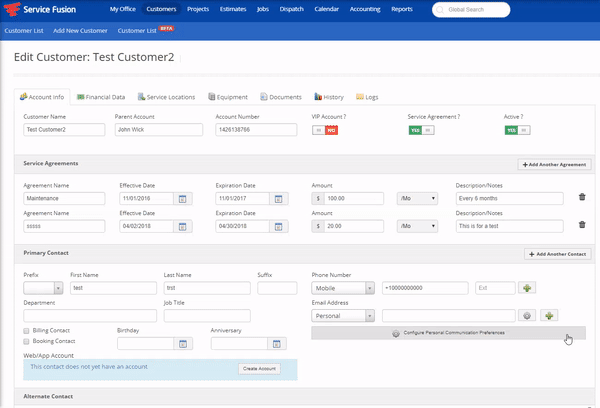 3) The On The Way text message notification has been configured in My Office > Company Preferences. You'll find this section towards the bottom of the page, on the right. You may use any tags in the Available Tags section, and the system will populate the text message based on the data on the job!
If there are more than one field workers assigned to the job, only the first field worker to update their status to On The Way will trigger the On The Way notification to be sent.
NEW 4) If the technician updating the status to On The Way has a GPS tracker on their vehicle, you have the option to send a second text to your customer containing a link displaying the vehicle location. Check the box under the Message Content field, labeled "
The text message with the URL will follow the On The Way text message, like so: