Do you use aisles, shelves, and bins in your warehouses? Create warehouse sublocations in warehouse management and keep better track of your stock levels!
Creating and assigning sublocations to warehouses is a function of warehouse management, and can be performed when creating a new warehouse, or by editing an existing warehouse. This section appears for warehouses that do not currently have sublocations:



Clicking on the [+] icon begins the process of adding sublocations. When the plus button is selected for the first time, a sublocation is added to the warehouse with a generic name of 'Sublocation1'. This entry can be renamed, reorganized, or deleted.

To rename the sublocation, simply select the 'A' icon that appears on sublocation mouse hover.


A 3 - tier structure is supported. Want to add a shelf location to an aisle? Simply click the [+] icon next to the sublocation, instead of next to the warehouse name.
Want to add a bin location to a shelf? For a third tier, click the [+] icon next to the second sublocation.
Notice once a third level is added, only additional 1st, 2nd, or 3rd tier sublocations can be added. In this example, only additional bins to Shelf 1, additional shelves to Aisle 1, and additional Aisles to the Warehouse can be added. Clicking the [+] icon next to the tier allows as many sublocations as needed to that tier.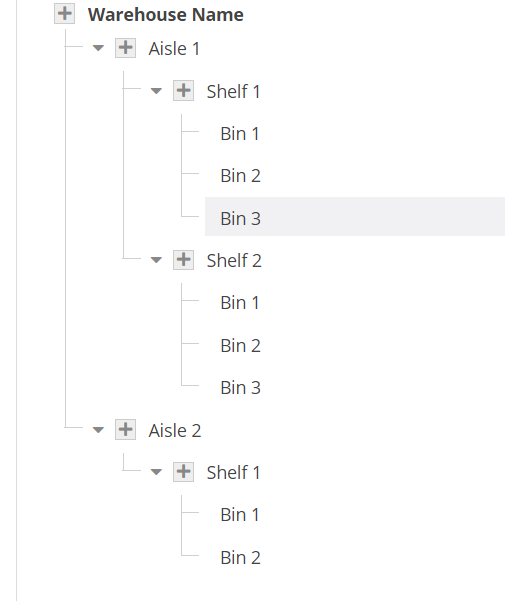 Quantities can be received directly against a sublocation during the inventory order (receiving) process.