We have now updated the Customer Account page to include an Activity Log of actions taken with a specific customer within Service Fusion! With this update, Tasks can be assigned directly to a customer without being tied directly to the Calendar.
New notes and tasks can be created by using the +Add New button at the top of the Activity Feed and can be done from any of the All, Notes, or Tasks tabs within the feed.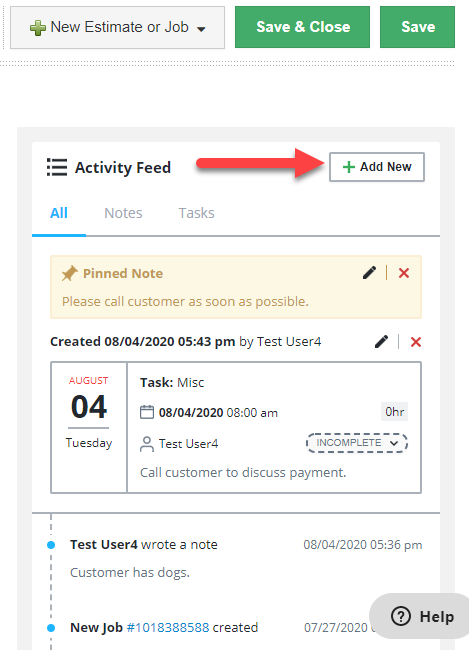 The All Tab
This tab is the default landing tab, and shows all recent activity including any notes and tasks. This includes activity on estimates, jobs, and invoices, as well as payments.
The "Notes" Tab
This tab will show any notes made to the customer account with pinned notes at the top. All other notes will be shown with the most recent note first. Each note in this section will show the date and time the note was made and who made the note.
The "Task" Tab
With the ability to assign tasks to customers directly, this tab will help track tasks assigned to a specific customer. All tasks indicated to be incomplete will be listed on this tab first with any tasks indicated to be complete listed in chronological order below, with the most recent task listed first. Once an incomplete task is marked as complete by clicking the status button within the task, it will be moved down the Activity Feed according to its chronological position based on the date indicated on the task.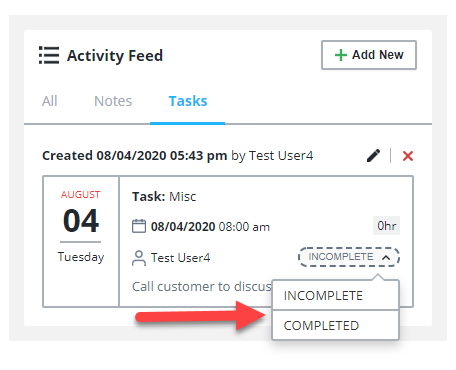 The Activity Feed has a new function: users can now initiate contact with their clientele external from an estimate, job/work order, or invoice.
Using the +New button (1), users can select Email to initiate an email to their customer, that is not associated with an existing estimate, job, or invoice (2). Then, users can choose to type in a new, unsaved email address into the To field, or select an email address entered on the customer contacts by clicking into the To field (3). Enter a subject (4) and message (5), then click Send (6) to send the email to your customer.
Sending a text message works very similarly! Click the +New button (1), and select Text Message to initiate a text message (2). If the user has ServiceCall.AI, they can choose an outbound "From" number, otherwise it will just be the default outbound number that came with the Service Fusion subscription. Then, type in a new, unsaved phone number into the To field, or select an available phone number entered on the customer contacts by clicking into the To field (4). Enter a message (5), then click Send (6) to send the text message to your customer.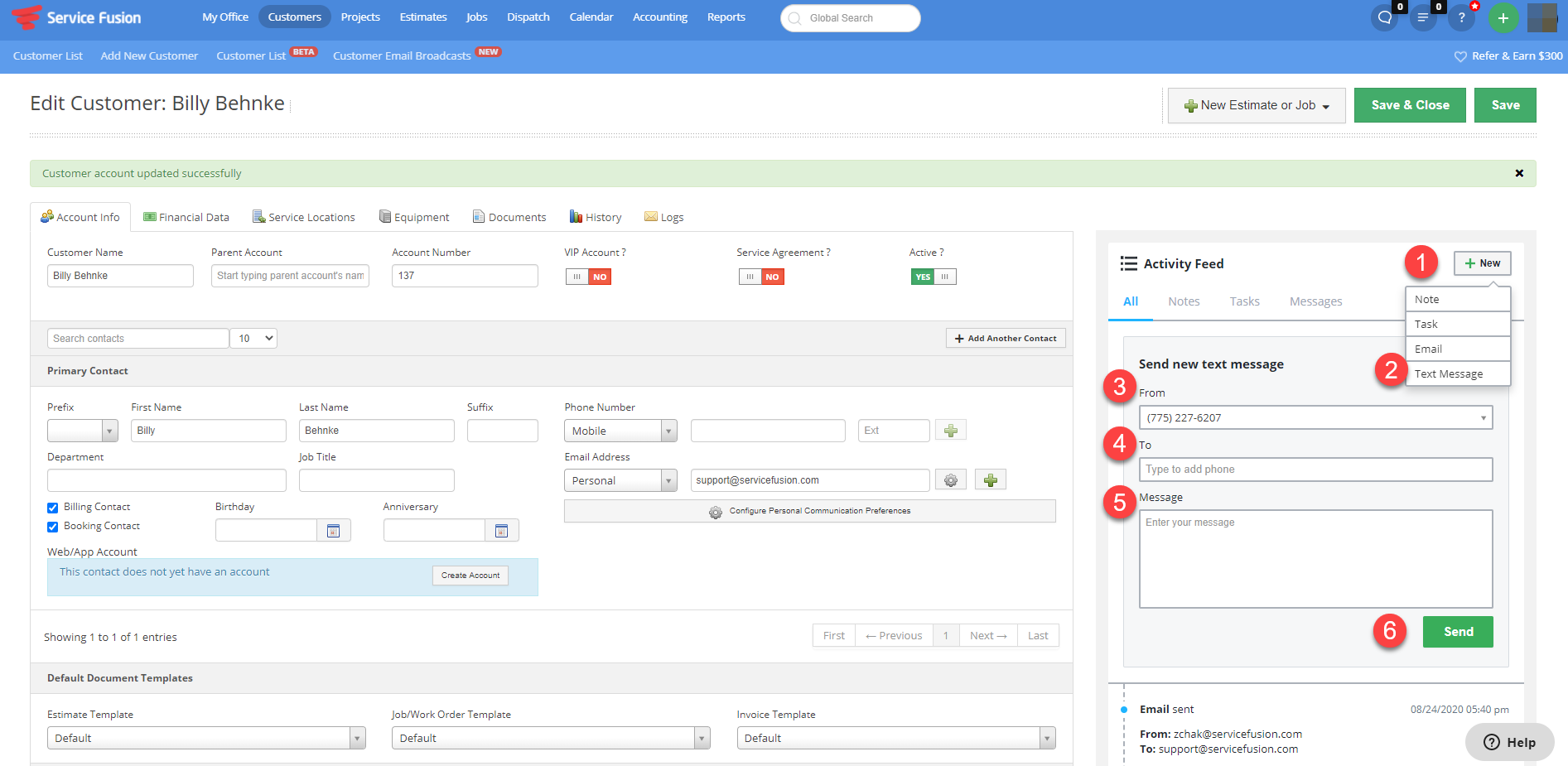 Released Friday, September 25th
You can now attach files to emails sent from the Customer Account's Activity Feed. Select the attach button at the bottom left corner of the email interface, and choose to upload a file from your computer or from FusionDrive.