Creating a Customer
There are a couple ways available to create a new customer in your Service Fusion system. You can hover your mouse over the Customers tab at the top of any Service Fusion page and select the blue +New button or you can click the green '+' button to the top right of any page and select New Customer from the resulting drop down list. A detailed walk through of the Customer Account interface can be found here.
Please ensure that your Customer Account Names are unique, especially if you sync with QuickBooks. When you create a new customer in Service Fusion and input the same name as an existing customer, you will get the following prompt.
We recommend that you select to alter the name to avoid confusion in the future and sync issues with QuickBooks.
Linking a Parent Account
Creating a Parent/Sub-Account relationship is beneficial in situations where a company owns multiple properties with their own addresses and customer information. For example, a rental company may own many different rental properties with many different locations and contacts. In order for work to be completed at each of those properties, the field worker would need the information for the rental properties, however, the management company would need to be associated for billing purposes!
To link a Parent Account to another customer account you will need to have the customer account you intend to act as the Parent already created. You can add the Parent Account during the creation of the Sub-Account, and if you have the 'Prompt To Copy Parent's Contact Info To Sub-Accounts' toggle set to Yes in your Company Preferences then you will be asked if you would like to apply the Parent Accounts' information to the Sub-Account.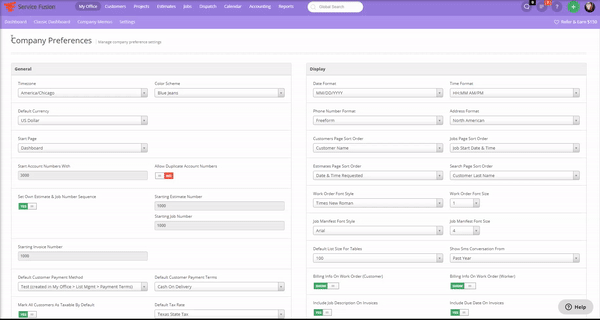 If you need to attach a Parent Account to an existing customer you are still able to! Just make sure that you select the customer from the resulting drop down once you've started typing in the customer name in to the Parent Account field. If you do not, it will not consider them linked!

If at any point you need to sever the link between a Parent Account and a Sub-Account, all you need to do is delete the Customer Name from the Parent Account field of the Sub-Account and click save. Please use caution when deciding to complete this action as it will affect all historical data such as invoices and payments. If you find that you need to change the Parent Account, we recommend creating a new sub-account to attach so that historical data is not altered.