Previous article: Creating an eSign document template
After you have successfully created your custom eSign document template, you can add it to any job or estimate by clicking on the "+ eSign Doc" button on the Docs tab.
From the popup dialog, select the eSign document you would like to send and press Add & Continue.
On the next screen, you will be prompted to select the signers from the drop-down menu prior to sending the invitation.
Customer and tech email addresses are preloaded from their profiles and cannot be overwritten inside this window. To make changes, please edit the customer or the tech's profile and then reopen the email dialog.
Confirm that the information is correct and press Send.
Each recipient will receive their personal invitation via email that will look similar to the below example.
After the email dialog closes, the Docs tab should automatically update to reflect the latest status of the eSign document.
You can use the standard document features to preview, rename or delete this document and resend the sSign request invite if necessary.

Any activity related to the eSign document requests will be reflected in the Job Activity Log.
When the recipient clicks the "Review & Sign" button, they will be taken a page branded with your company logo (or name if no logo was uploaded in Company Settings) where they will be able to review and sign the eSign document.
Once the signer reviews the document content, they can click the "Sign Here" button to open the signature pad.
All signers will receive their own invites and will only have their own designated signature fields visible to them.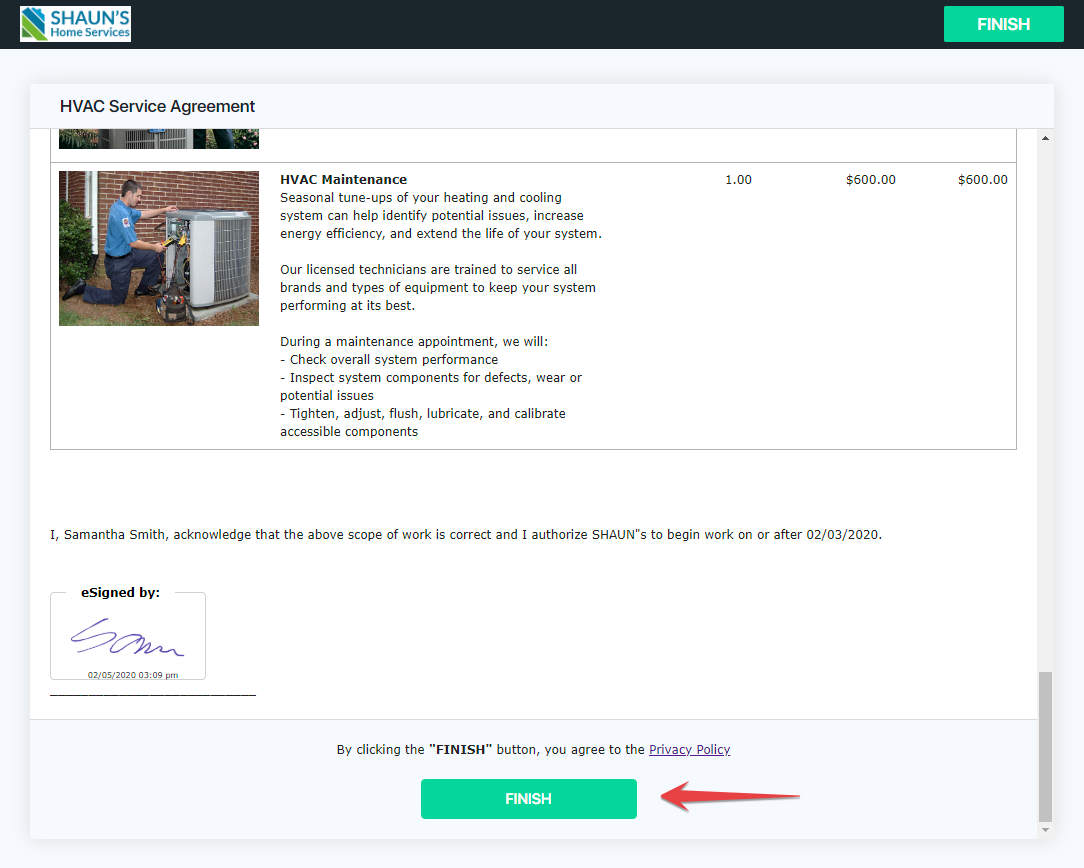 The signature will be stored on the document and automatically timestamped.
After all recipients have signed the document, it will be available for download as a PDF. An email copy will also be sent to all parties for their records.
On the web or mobile for signers
In the admin system for internal users
Download a copy of this sample eSign document: HVAC Service Agreement (PDF)
You should now be ready to start sending eSign requests to your customers!
---
Please note that prior to signing, each signer will be required to agree to the terms of the Electronic Records & Signature Disclosure (ERSD). For your convenience, this disclosure notice will be automatically populated with your company's name and contact information.

Content of the ERSD is available here: Sample Electronic Record and Signature Disclosure (ERSD)