Whether it's Good/Better/Best, Option 1/2/3, or Repair vs. Replacement, you can now give your customers the optionality they demand right from within the fieldworker app.
| | | |
| --- | --- | --- |
| | OR | |
Here is what this new, easy-to-use feature allows you to do:
Create up to

five

estimate options within a single estimate
Rename and archive options
Convert one or more options into jobs
Email, print or download estimates with options in a stacked or a side-by-side format
Offer customers to accept estimates online and collect their digital signatures
When an estimate is first created, only one option named "Estimate" will be available by default. To add another option, simply tap the "Add option" button at the top and a new option block will appear under the existing option(s).

Once the option is created, you can rename it by tapping the menu button on the far right of each option.
Rename your estimate and tap OK.
You can expand and collapse each option by tapping on the arrow icon or the option name.
Once the option is expanded, you can add products and services to each option individually as you normally would.
When emailing or printing your estimates, you will be prompted to select one or more options to be included in the estimate.
When you are ready to convert one of the estimate options, simply tap the "Finalize Estimate & Convert To Job" button and select one of the estimate options from the list.
Please note that only one estimate options can be converted at a time. However, you can convert more than one option from the same estimate into multiple jobs. For example, you could convert a repair option into one job and the replacement option into another at a later date.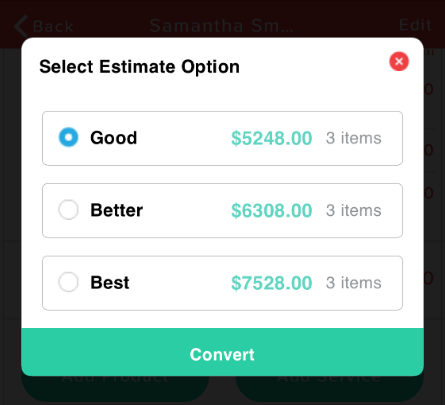 When an estimate option is converted, it is automatically tagged as "Converted" and the estimate is set to Estimate Won or similar status, depending on your company's settings.