Download Template: Flat Rate Template.xlsx
| | | |
| --- | --- | --- |
| Column Headers | Notes | Required? |
| Service Name | Must be in your Service Fusion Account prior to import. Found in My Office > Service Catalog. | Yes |
| Product Name | Must be in your Service Fusion Account prior to import. Found in My Office > Product Catalog. | Yes |
| Qty | Quantity of the Product that will attach to the Service. | Yes |
In order to do a flat rate import, the products and services must be created in your system.
Once you have filled this template out, please send this template to support@servicefusion.com.
Example of a Flat Rate Import: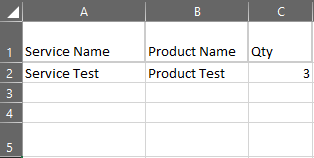 As you can see, once we import the flat rate into your system, the "Flat Rate ?" field will be set to "Yes" and the Product will be shown under the "Products/Material Used".