There are several ways to receive help in Service Fusion! We have a dedicated team of support professionals, eager to assist with everything from how - to questions, to workflow optimization consultations. Want to contact the team directly? Its easy! Our support hours are Monday - Thursday, 8:00 AM CST to 6:00 PM CST, and we operate a schedule of 8:00 AM CST to 5:00 PM CST on Fridays. The different ways to contact support are the following:
Our knowledge base has articles written by professionals, for professionals.
1.) Use our advanced search tool - We'll match your current search term with a few articles that should help address the current need.
2.) General - This is where the majority of our general help questions reside.
3.) Onboarding - Just getting started? Working with one of our 5 star rated Customer Success Managers? Follow the 3 step process to make sure you have the tools needed for success.
4.) Live trainings - Hosted twice a day Monday through Thursday (10 AM and 3 PM, CST), attend 1 of 4 training classes ranging from admin level configuration set up to module specific training. Are the times no good for your schedule? We understand! We record them and link you to the recordings in this section as well. Watch from any web connected device!
5.) Initiate a chat through the knowledge base! - In the bottom right hand corner, start up a chat with a support representative. Outside of support hours? Use this built-in widget to send over an email to us, which will create a support interaction for us to contact you back, when support opens back up!
Email us directly at:
Emails directed to this address create support interactions directly with the Service Fusion Support Team.
Call us! Our direct support phone number is 888 902 0304, extension 2.
During support hours, select the 2nd option to be routed directly to the support team! (the first option is the sales line) After you are routed over to the support queue, you can press option 1 to leave us a voicemail, or select option 2 to save your spot in line and we'll simply call the number back that called us! While we strive to have the shortest possible wait times in the queue, why wait at all? Request a queue call back! Of course, you can stay on the line with us, and be directly connected with a Service Fusion Support Professional to talk and screenshare with!
Use our Help Widget to chat with us!
From every signed-in Service Fusion Screen, you can interact with our help widget. This widget is this icon in the bottom right corner of each Service Fusion screen:
With this widget, you are immediately presented with the ability to search our knowledge base. You can search and preview articles directly, like so: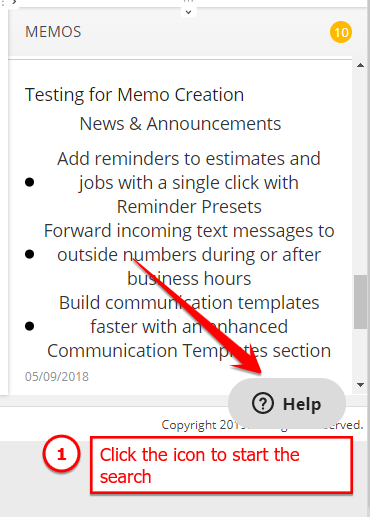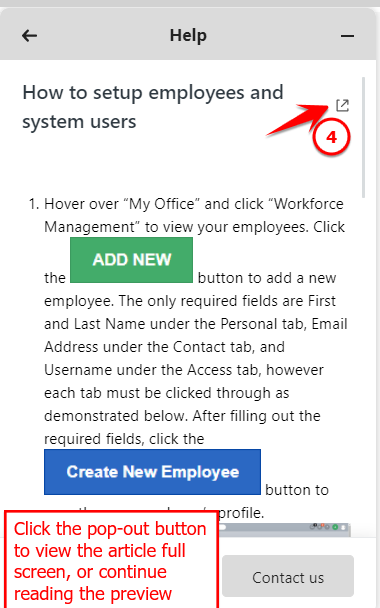 And there you have it! Call support, (888 902 0304, opt. 2) Email support (support@servicefusion.com), Chat with support (through the widget), Search our Knowledge Base (https://servicefusion.zendesk.com/hc/en-us), Request a call back (through our widget)!
We are here to help.
If you need anything, please do not hesitate to reach out to our team of professionals using the methods described above.