Feature Releases
Admin System
Released Wednesday January 5th
Pagination of Tax, Fees & Discount Pages
The layout of the Add and Edit pages for managing Taxes, Fees and Discounts has been optimized to improve the user experience for companies with large catalogs. Enjoy the addition of filters as well, to more easily find what you need.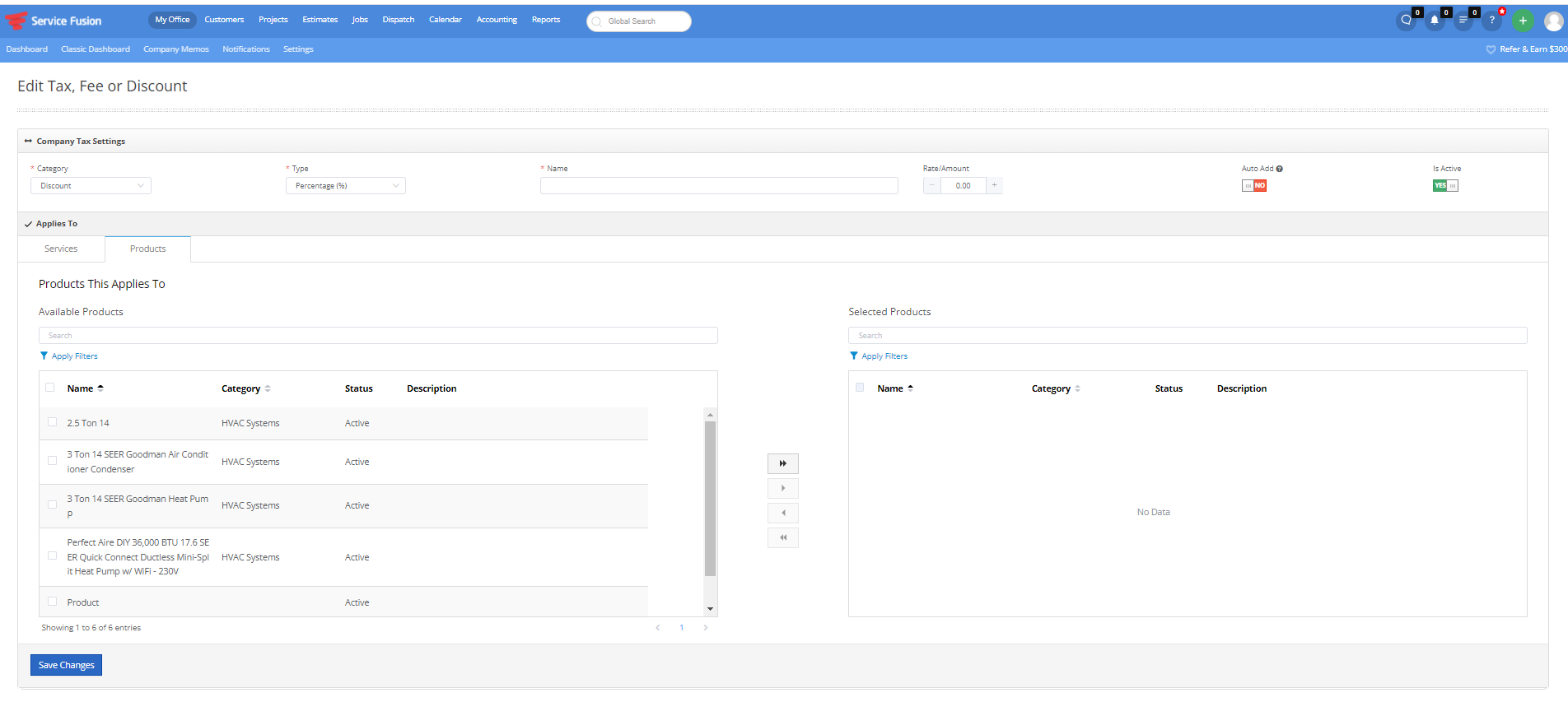 PulseM Integration
Companies can now schedule a demo with PulseM directly from the integration page. PulseM is the leading Reputation Management Platform for home services and helps manages customer service interactions and monitors customers reviews.
Product Improvements
Released Wednesday, January 5th
Report Center Improvements

At the end of the year and at the start of a new one, we understand you're running report after report after report. To help with all that reporting, customizable reports in the Reports Center got some love. We resolved an issue and now filtering by Profit on the Sales Revenue report works correctly.

The Sales Revenue report in the Reports Center also displays the relevant Equipment now. Previously, if Equipment was found on the

customer

, and not specifically on

the job

, the report included it. Now, the Sales Revenue report will include Equipment selected on the job

only

.

The Product Sales by Customer report found on the Reports Dashboard was fixed to now show the correct job numbers.

Dispatch Improvements


While we were on the Dispatch Grid, we addressed the Unassigned tab at the bottom. Filters will now work correctly for that tab as well as the Unscheduled tab.

The Dispatch Grid is a powerful tool to reassign or reschedule jobs through the convenience of drag-and-drop. Sometimes in doing so, job statuses change, however these changes were not recorded in the job's Activity Log, which led to the inevitable question: "Who changed this status?" This activity will now show in the log, and you'll have your answers to that question!

Customer Improvements

When searching in the Global Search by phone numbers, you may have noticed results returned for customer contacts that had been deleted. We have resolved this issue.

And speaking of Customers, some Service Locations were not auto-filling correctly when selected from the drop down list, sometimes omitting cities. Cities are a pretty important part of an address, and as such are now properly displayed. Extraneous spaces between the city, comma, and state have also been removed so the address will show in the conventional format.

Job, Estimates, and Invoice Improvements

When sending Estimates via email to your customers for acceptance, the Tech Status did not always update to match the Estimate Status. This inconsistency has been corrected, and they'll match now.

Estimate Options, when emailed, sometimes had inconsistent line heights for products and services which led to formatting issues and multiple blank lines and wasted space. Those blank lines have now been corrected, and your Estimate Options are uniformly spaced once again.

Estimates and Jobs containing products or services with long descriptions sometimes had odd page breaks on the downloaded or printed PDF. Page breaks now break pages correctly.

When printing Estimate Options, some users noticed they needed the Update Estimates permission to print, otherwise they could only print the first option. Printing is not updating, so we addressed that issue, and now simply the View permission is all that is needed to print those Options. While we were at it, we resolved the issue where Permission Templates weren't applying correctly. They will now.

One last item for Estimates: When syncing to QuickBooks Online, sometimes Product descriptions were left out of the loop. We felt that if those descriptions were visible in Service Fusion, they should be visible in QuickBooks Online, and they will no longer be left behind.

After copying a Job, billable Drive & Labor times were sometimes visible, until the job was refreshed. Since Drive & Labor time is unique to each job number, it shouldn't be included on the newly copied job and no longer is, no matter how briefly.

We adjusted the math so now the Invoice:TotalDue tag on Custom Documents will round up correctly.

And finally, Job Tags are great, but not much help if some tags appear on the Jobs Dashboard multiple times. Now they're just visible once now.
Released January 19, 2022
General Improvements

The eSign Document tag used to create Estimate Custom document generates two signatures, rather than one, and does not show the text for the signer name
We adjusted a few The Reminder Presets pages so that the tooltips no longer overlap other controls on the page.
Blind carbon copy emails now transmit Job status updates correctly.
All options are now showing on synced Purchase Orders to QuickBooks Desktop.
Inventory Management: Product list can be listed in Ascending order order by name.
The outbound email's subject Preset reminder now shows within the view on jobs.
Whenever an estimate gets converted to a job, the appropriate custom fields now show when a job category gets changed.
We no longer have instances where content is missing from job detail tag(s) on internal notifications.
A solution has been implemented to ensure consistent application of customers' default taxes when there are multiple estimate option.